Monday 11 March 2019
The 'Lets move for a better world' campaign is supporting the Symbitron+ team. The Symbitron+ team is working on an exoskeleton for people with a spinal cord injury to participate in the Cybathlon 2020 in Zurich. Niek de Jonge, one of our pilots is also involved in the campaign, organized by the UT Sportcentre, The vital Company, Topvorm Twente and Roc van Twente. The campaign focuses on motivating people to become active. People supporting this campaign get 'moves' for their activities. These 'moves' can be donated and will support the Symbitron+ Exoskeleton Race Team.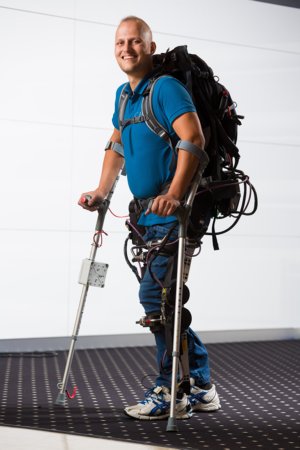 There are three ways to support the Symbitron+ team:
- Become active, collect moves and donate them.
- Making a donation. www.steunutwente.nl/project/exoskeleton-race-team
- Bite the lemon challenge!
More information about how to do this can be found on: www.utwente.nl/letsmove
And finally, you can also follow the Facebook page about the campaign: https://www.facebook.com/events/554690485028807/